A very special guest speaker will talk about solving important "toy" problems with Python.
Some of the most significant changes in Python 3 are related to metaprogramming. In this tutorial, I'll cover decorators, class decorators, descriptors, and metaclasses. However, the focus will be on idioms and examples that are only made possible using features that are unique to Python 3. For instance, making free use of function annotations, signatures, new metaclass features and more.
What's more fun than learning Python? Learning Python by hacking on public data! In this tutorial, you'll learn Python basics by reading files, scraping the web, building data structures, and analyzing real world data. By the end, you will have set up your Python environment, installed some useful packages, and learned how to write simple programs that you can use to impress your friends.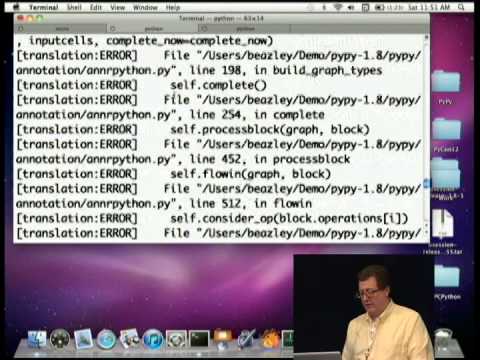 I'm not sure if we're still looking for talks on Thursday, but if so, I'd like to volunteer to give a talk about using Python to do some retro-computing hacking involving my vintage 1978 Superboard II. It's not exactly robotics, but it involves hardware and a lot of low-level hacking (along with some Python3 and ZeroMQ thrown in for good measure ;-).
Event:
ChiPy
Speakers:
David Beazley
Recorded: January 13, 2011
Language: English
Last updated: November 24, 2013
Follow-up to David's last GIL talk in June 2009. This presentation walks through changes to the GIL that are being made.
Event:
ChiPy
Speakers:
David Beazley
Recorded: January 14, 2010
Language: English
Last updated: November 24, 2013
Event:
ChiPy
Speakers:
David Beazley
Recorded: June 11, 2009
Language: English
Last updated: November 24, 2013