Plenary: Morning Lightning Talks covering GeoDjango, Zope, Launchpad, JSOT, AppEngine, StackOverflow, Miro, zc.buildout and RPM, ham radio, Plyne, GozerBot, picking tools, and stop watch.
Event:
PyCon US 2009
Speakers:
Adam Fast
,
Charles Severance
,
Christopher Allan Webber
,
JIm Fulton
,
John Hampton
,
John Mulder
,
Justin Bronn
,
Martin Faassen
,
Paul Hummer
,
Richard T. Saunders
,
Roberto Allende
Language: English
Last updated: January 29, 2013
GNU MediaGoblin is a free software media publishing system written in Python for images, video, and audio. This talk starts by tricking you into watching the mediagoblin_campaign_pitch video, and then Chris explains how he used Python to drive Blender to make the animated effects.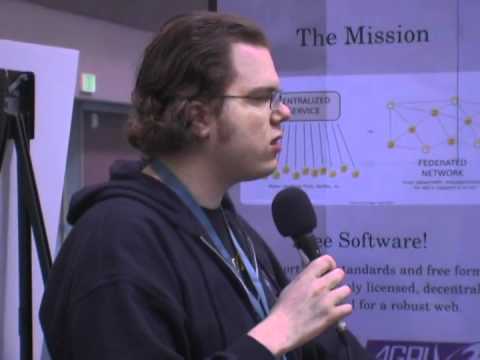 From just a gleam in founder Chris Webber's eye to a full tilt media hosting project supporting photos, HTML5 video, and more, the road to federation has been a wild ride so far. Come talk to us about the challenges, the fun and the future.
Christopher Allan Webber talks about GNU MediaGoblin, a federated (decentralized) media publishing system (images, and later other media like video) written in python and under the AGPL. Infrastructure discussion describes what it means that GNU MediaGoblin uses an unframework / is "wsgi minimalist", about the choice of MongoDB and MongoKit, and how to impress an audience with ascii art mockups.
Blender 2.5 (a free and open source software 3d graphics suite) includes a new BPY python API which is usable for scripting modeling, animation, etc. Learn to use this API to speed up your workflow, create procedural graphics, and cool new tools.
Creating tools with Python and Blender 2.5's bpy API
Chris covers how git works, the internals, and using the GitPython library.