Do you enjoy writing test cases for your web application? If so then this may not be the talk for you. I'm going to show you how to make a single test suite perform triple testing duty, so you can get on with writing the fun stuff.
Event:
PyCon AU 2012
Speakers:
Ryan Kelly
Recorded: August 21, 2012
Language: English
Last updated: January 29, 2013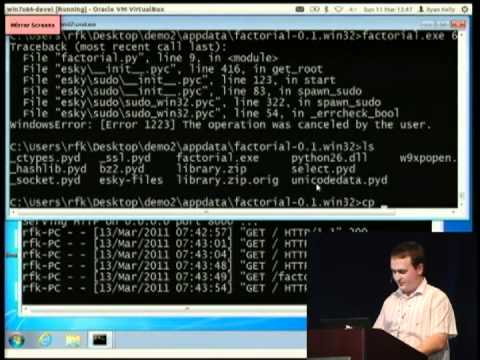 There's more to shipping a stand-alone python app than just running py2exe over your code. Want to deploy automatic updates? Want to be sure it runs on legacy platforms? Want to add professional touches like code signing? And want to do this all in a cross-platform manner? This talk will show you the tools you can use to make your frozen apps better in a variety of small yet important ways.
Event:
PyCon US 2012
Speakers:
Ryan Kelly
Recorded: March 11, 2012
Language: English
Last updated: January 29, 2013