In March '10, the Boston Python user group ran its first gender diversity outreach workshop. In the time since, the group has has moved the needle and inspired other communities to do the same. In this panel, you will hear communities like PyStar Philly, Railsbridge Boston, and the Chicago Python Workshop discuss their successes and difficulties with diversity-oriented outreach.
Scrapy lets you straightforwardly pull data out of the web. It helps you retry if the site is down, extract content from pages using CSS selectors (or XPath), and cover your code with tests. It downloads asynchronously with high performance. You program to a simple model, and it's good for web APIs, too.
If you use requests, mechanize, or celery for HTTP, you should probably switch to scrapy.
This tutorial teaches basic web development for people who have some experience writing HTML, CSS, and front-end Javascript, but have little or no experience building an end-to-end web application.
Together we will build a basic social bookmarking application using Django!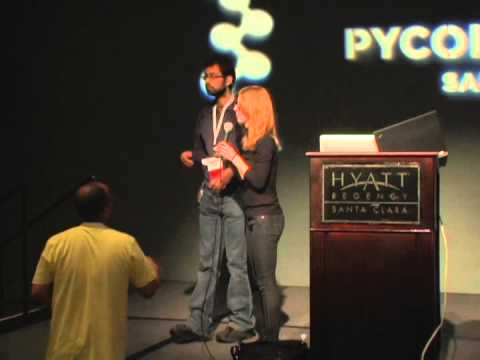 How do you bring more women into programming communities with long-term, measurable results? In this talk we'll analyze our successful effort, the Boston Python Workshop, which brought over 200 women into Boston's Python community this year. We'll talk about lessons learned running the workshop, the dramatic effect it has had on the local user group, and how to run a workshop in your city.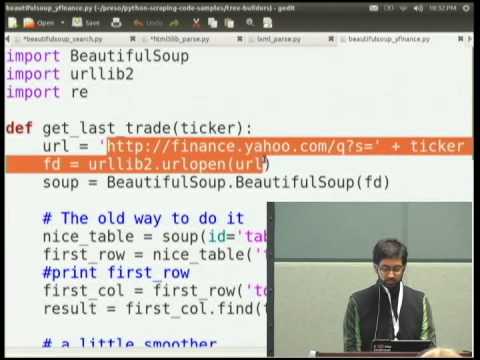 Exciting information is trapped in web pages and behind HTML forms. In this tutorial, you'll learn how to parse those pages and when to apply advanced techniques that make scraping faster and more stable. We'll cover parallel downloading with Twisted, gevent, and others; analyzing sites behind SSL; driving JavaScript-y sites with Selenium; and evading common anti-scraping techniques.
We'll discuss the basics of web scraping, and then dive into the details of different methods and where they are most applicable. You'll leave with an understanding of when to apply different tools, and learn about automating a full web browser, a "heavy hammer" that I picked up at a project for the Electronic Frontier Foundation.